VDO Fleet is Europe's most used tachograph software offering a comprehensive solution that ensures compliance with statutory regulations for analysing and archiving vehicle and driver data. Developed by one of the biggest tachograph manufacturers Continental.

Analyse your vehicle and driver tachograph files in line with the legislation 
Legal compliance
Manage your vehicle and driver data in line with the rules and regulations.
Infringement letters
Driver reports with detailed visualisation of tachograph data and infringement letters.  
Secured file archive
Manage your data safely in the cloud, accessible from anywhere, anytime.
Reminders
Reminders of upcoming download dates to avoid possible discrepancies. 
Automated downloads
Increase the operational efficiency of your fleet through automated downloads.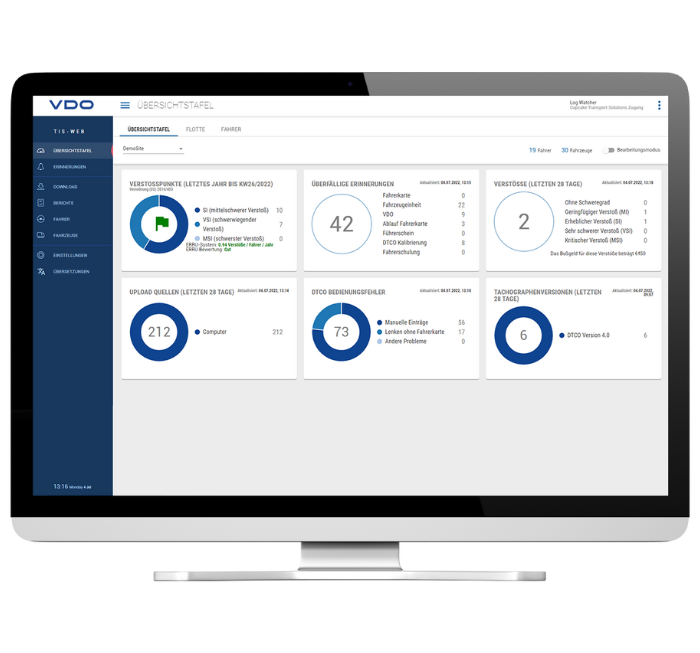 EU rules (Regulation (EC) 561/2006), GB Domestic hours and Working Time Directive reporting

Driver infringement letters and debrief

Detailed visualisation of tachograph data

Integration with Remote Tachograph Downloads

Reminders and notifications

Comprehensive list of vehicle and driver reports

Retention of legal data for 5 years

Build your own reports

Software developed by one of the biggest tachograph manufacturers in Europe.