From the 1st March 2021 the Direct Vison Standard will be enforced in Greater London. This requires operators of lorries over 12 tonnes GVW to obtain a permit; failure to obtain this may result in a penalty charge.
What is it?
The Direct Vision Standard (DVS) has been developed by the Mayor of London Sadiq Khan aiming to eliminate all deaths and serious injuries from road collisions by 2041 and increase road safety. The DVS and safety permit for HGVs requires operators of vehicles exceeding 12 tonnes gross plated weight to obtain a permit to enter or operate in Greater London. The DVS objectively measures the level of visibility through the windows of the vehicle for the Driver. If it is difficult to see your surroundings outside the windows of your vehicle it indicates a high risk to road users, such as those walking near the vehicle or cycling. This is then translated into a star rating from zero (poor) to five (excellent) visibility.
This Direct Vison Standard will be enforced from the 1st March 2021, however there has been a 90-day grace period granted to operators who have ordered the Safe System components but are experiencing delays in the supply and the fitting of them.
Who needs to apply for a permit?
Any vehicle exceeding 12 tonnes gross plated weight must apply for a permit, however you must find out your direct vison star rating before you can apply. If you have a rating of zero (poor visibility) you must fit the listed Safe System equipment before you can then apply for the permit. These are a prerequisite to applying for a permit if you have a star rating of zero.
What is the Safe System?
The Safe System is a series of vehicle safety measures (fitted after the point if the vehicle being manufactured). These are designed to increase visibility and alert others to reduce the risks that HGVs present to people walking and cycling. Some of these risks that will give your vehicle a zero-star eye point is if the driver is not be able to see the head and shoulder of a small female 4.5 metres away from the cab side. This is illustrated in the image.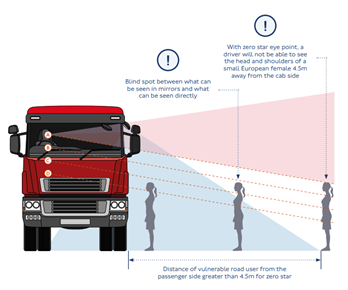 What safety equipment do I need to get fitted to apply for a safety permit if my vehicle has a zero-star rating?
Class V and VI Mirrors
Sideguards
Camera Monitoring System
Sensor System with driver alert
Left-turn audible alarm
Warning signage
There is no brand of equipment or technology that is mandated as part of the Safe System, therefore if you can find a reputable supplier then the equipment fitted should be accepted.
Who is exempt from needing a HGV Safety permit?
A small number of vehicles are entitled to an exemption from the HGV Safety Permit Scheme. These include specialist construction vehicles built for mainly off-road use (for example, telehandlers and mobile cranes). If your vehicle is registered in the UK it should automatically be exempt and you do not need to register it with the government.
The main HGVs that are exempts are as below however please find the link for further exemptions in the references below[1]:
Emergency service Vehicles
Specialist gritting and snow plough vehicles
Armed Forces vehicles
Ministry of Defence Vehicles
Breakdown organisations/recovery vehicles
Mobile cranes
Road sweepers
How to apply
Find out your Direct Vision Star Rating. If it is zero, then you must get the Safety System equipment fitted before you can apply for a permit.You can check if the TfL holds a start rating for your vehicle already on this link: tfl.gov.uk/direct-vision-permit
When you are ready apply for a permit online: tfl.gov.uk/direct-vision-permit
Other charges which may apply to you in London are:
There are a lot of new schemes and charges that are being implemented in London and across the UK. You must ensure you keep up to date as a goods vehicle operator what you are required to do to keep safe on the road. If you have any questions or queries regarding the compliance of your vehicle or you would like to find out more about the Direct Vision Standard, please feel free to call Fleet Planner.
---
[1] http://content.tfl.gov.uk/hgv-safety-permit-guidance-for-operators-entering-london.pdf
[2] https://tfl.gov.uk/modes/driving/congestion-charge/congestion-charge-zone?intcmp=2055
[3] https://tfl.gov.uk/modes/driving/ultra-low-emission-zone/ulez-where-and-when?intcmp=52227
[4] https://tfl.gov.uk/modes/driving/low-emission-zone?intcmp=2261